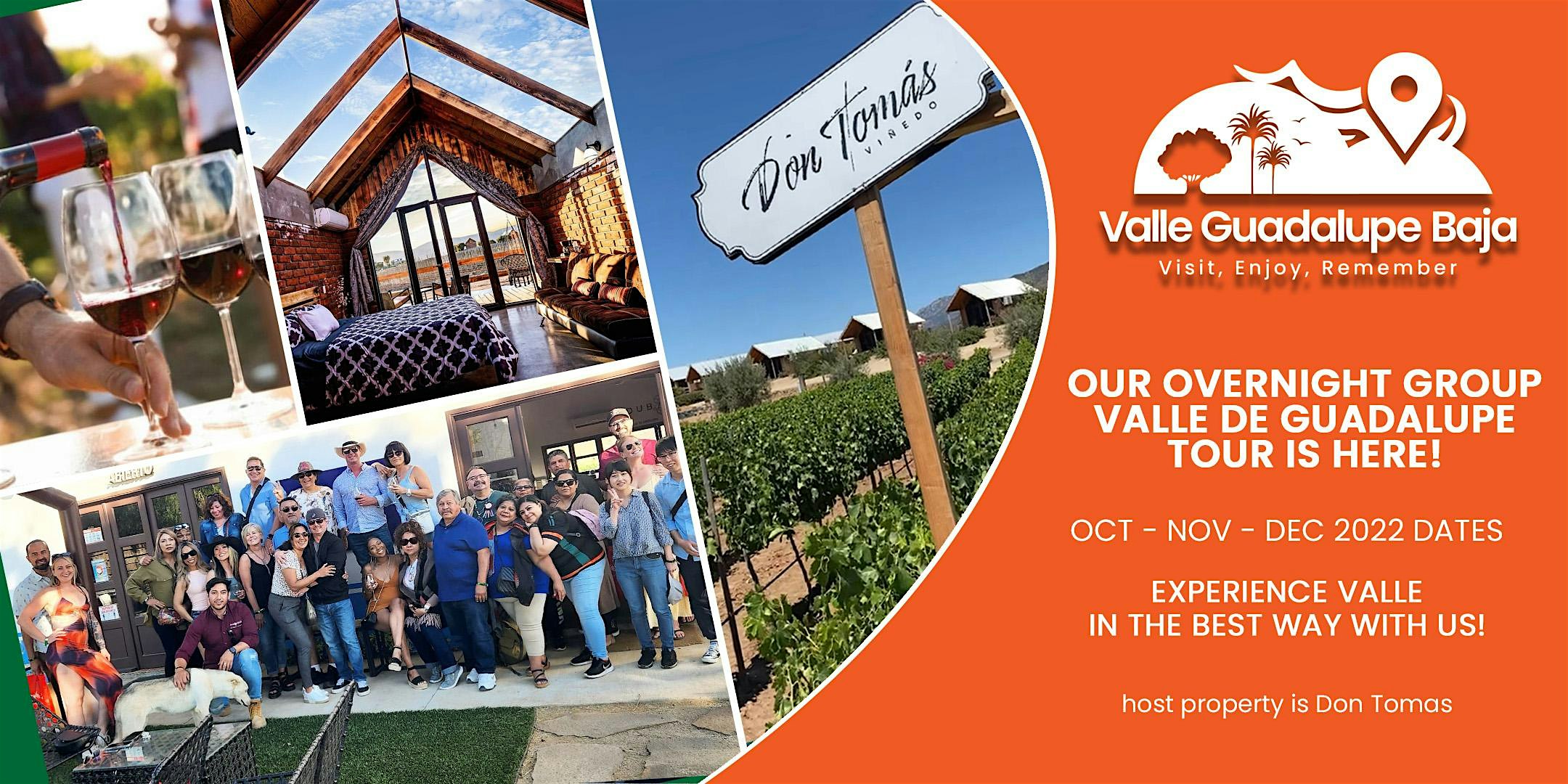 Advertisement

Experience Valle de Guadalupe during the Day and Night! Join our bus of good vibes. Transportation, Wine and Cheese, Campfire From San Diego
About this Event


Spending the night in Valle de Guadalupe is just what the evening sky and your soul has ordered! We are excited for you to join us on our 2022 group one-night trips. October, November and December dates are now booking! Limited spots per trip available!

Take a breath from your daily routine and join us on a refreshing overnight trip to this magical destination!


Tickets include roundtrip transportation from the PedEast border crossing on our Tour Bus, Evening Wines and Cheese, Sunset Campfire with Music, and Bi-Lingual, Local Tour Hosts. Come travel with us!Trip Itinerary:
Our itinerary starts at 10:30am when our staff greet you at the border with waters and snacks available on the bus for hydration.
We will meet you on the USA side of Pedeast and walk to our bus on the Mexico side and get going! Our first stop is at Plaza Ranho Delicias around Noon where you can enjoy lunch and a drink as well as browse the Plaza's shops and grounds. Anticipate arriving to our Resort Vineyard property very soon! At Plaza Delicias, feel free to grab a few extra items/snacks/whatever for your hotel room if you like!
Around 2:00pm we will arrive at our hand-picked resort host property, Vineyard Don Tomas. Savor all the feels and flavors as we move into the evening and next morning on this pristine Valle property.
Check into your cabin, hop on the property tractor for a wine tasting, lounge at and swim in their brand-new large pool (views!), walk the vineyard grounds, take photos, relax in your room and enjoy free time.
The on-property restaurant is fantastic and you may dine at your leisure for dinner (before 7pm) and/or breakfast (opens 8:30am). Menu Here
At 6:00pm we will light our campfire and begin hosting wine and cheese along with classic, mellow and fun, musical tunes. The evening is fully hosted (included) and we will have bottles of red wine, whites and roses as well as water bottles. Your host will guide you as to the location of the evening's festivities. 
Enjoy watching the Valle turn from day to night, take in the wine-country sunset and enjoy a sky full of stars with your tour community. There is very little light pollution in the Valle de Guadalupe by design and the sky is remarkable! 
Our fire and music will begin to go out at 9:00pm – feel free to stay and vibe with us the whole time or head back to your cabin as you like! 
Buenos Dias! Enjoy the property as you like during the morning hours – perhaps some self-guided yoga on your patio, a jog around the resort or maybe a good book and journaling time. Our bus will leave back to the border crossing at 11:00am for an arrival back to border by 1:30pm, should be back into USA by 2:30pm or before.
We hand picked this property and think you will really enjoy it! They offer classic cabins, two Estrella premium cabins and glamping choices. **Please book your room here.** Room is not included in the tour price and must be booked separately. Queen beds are in the majority of the rooms but select rooms have two double beds. 
You can bring one bottle back into the USA duty free (no need to declare) so keep in mind the one you love most as you sip and enjoy the fine wines of Don Tomas. We hope you can join us for the wine, food, fun and connection in Valle de Guadalupe, Baja Mexico! 
-Trip Dates!
October 1st – 2nd
November 5th to 6th
December 3rd to 4th
-
About Valle Guadalupe Baja
Aimee Cruz founded Valle Guadalupe Baja in 2021 to help more people from Southern California explore the beauty and uniqueness of this land that is a short drive for us. Valle de Guadalupe has become one of the most important tourist destinations in recent years thanks to its spectacular landscapes, vineyards, dreamy sunsets, and excellent gastronomy as well as its deep and rich Mexican culture. What's more, it's just under two hours away from San Diego!
To subscribe to future trips to Valle de Guadalupe and surrounding areas of Baja please subscribe at www.ValleGuadalupeBaja.com
To see our Day Trip please click here.
For any questions, please email [email protected]
Advertisement
Event Venue & Nearby Stays
Pedeast Tijuana Transit Station - USA Side by McDonalds, 727 E San Ysidro Blvd, SAN DIEGO, United States
Tickets
USD 200.00 to USD 240.00