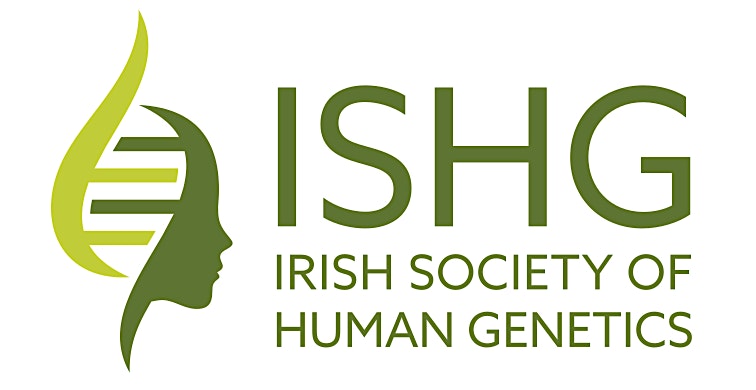 Advertisement

The 25th Annual Meeting of the Irish Society of Human Genetics
About this Event


We will be back to a face-to-face conference this September.

Our annual conference will take place in the Radisson Blu Hotel, Golden Lane, Dublin, on Friday 16th of September 2022.

The event brings together the clinical and research human genetics communities in Ireland, and provides delegates an opportunity to present, discuss and debate the challenges and opportunities associated with human genetics in Ireland.

Our keynote speakers will be:
Professor Nicola Whiffin "Interpreting variation in the non-coding genome"
www.rarediseasegenomics.org/
Nicky joined the Wellcome Centre for Human Genetics as a Group Leader and Sir Henry Dale Fellow, supported by the Wellcome Trust and Royal Society, in Sept 2020. She is also a Junior Research Fellow at St Anne's College, and a visiting scientist at both the Wellcome Sanger Institute and the Broad Institute of MIT and Harvard.
Nicky's research uses computational approaches to interpret the role of genetic variants in rare diseases.
Nicky's undergraduate degree was in Natural Sciences at the University of Cambridge before she studied for a PhD in genetic susceptibility to Colorectal Cancer at the Institute of Cancer Research in London. During her postdoctoral work at Imperial College London, she developed tools and methods to improve interpretation of variants identified in patients with Inherited Heart Conditions.
Professor Lorna Harries "Dysregulated alternative splicing – a new (and druggable) hallmark of ageing"
http://teamrna.wixsite.com/harrieslab
Professor Lorna Harries gained her PhD from University College London in 1994.
Lorna established the RNA-mediated disease mechanisms group at Exeter in 2006, and holds a personal chair in Molecular Genetics at the University of Exeter Medical School and a position as co-founder, co-director and Chief Scientific Officer at SENISCA Ltd, a spin out company founded on the Harries lab's research.
Lorna also heads the Exeter Animal Free Research Centre of Excellence (ARC 2.0) funded by Animal Free Research UK. The Harries lab have interests in -omics approaches to the study of ageing and age-related disease processes in humans, and her work takes a genes to systems approach, ranging from 'big data' analyses to detailed individual molecular analysis of particular genes.
Her team were the first to report dysregulation of alternative splicing as a new, and druggable, hallmark of ageing.
Professor Dan Bradley "Ancient Irish and other genomes; expect the unexpected"
https://www.tcd.ie/Genetics/molpopgen/
Dan Bradley spent his early years on Co Derry farm. After a degree in genetics from Cambridge University and PhD in medical genetics from Trinity College Dublin he subsequently started to work on the genetics of each species present on that farm, including Irish humans, and has done for over 30 years.
His laboratory pioneered the molecular genetic analysis of Irish populations, particularly co-analysis with surnames and the sequencing of the genomes of people who lived here thousands of years ago. This tells about their origins, sometimes their traits and diseases and how they relate to modern Irish people.
He also works on ancient genomes of domestic animals from bones and parchment. He holds a Personal Chair in the Smurfit Institute of Genetics in Trinity College Dublin.
He was awarded the 2020 Royal Irish Academy Gold Medal in the Life Sciences. He is a former president of the Irish Society of Human Genetics.
Advertisement
Event Venue & Nearby Stays
Radisson Blu Royal Hotel, Dublin, Golden Lane, Dublin 8, Ireland
Tickets
EUR 40.00 to EUR 130.00