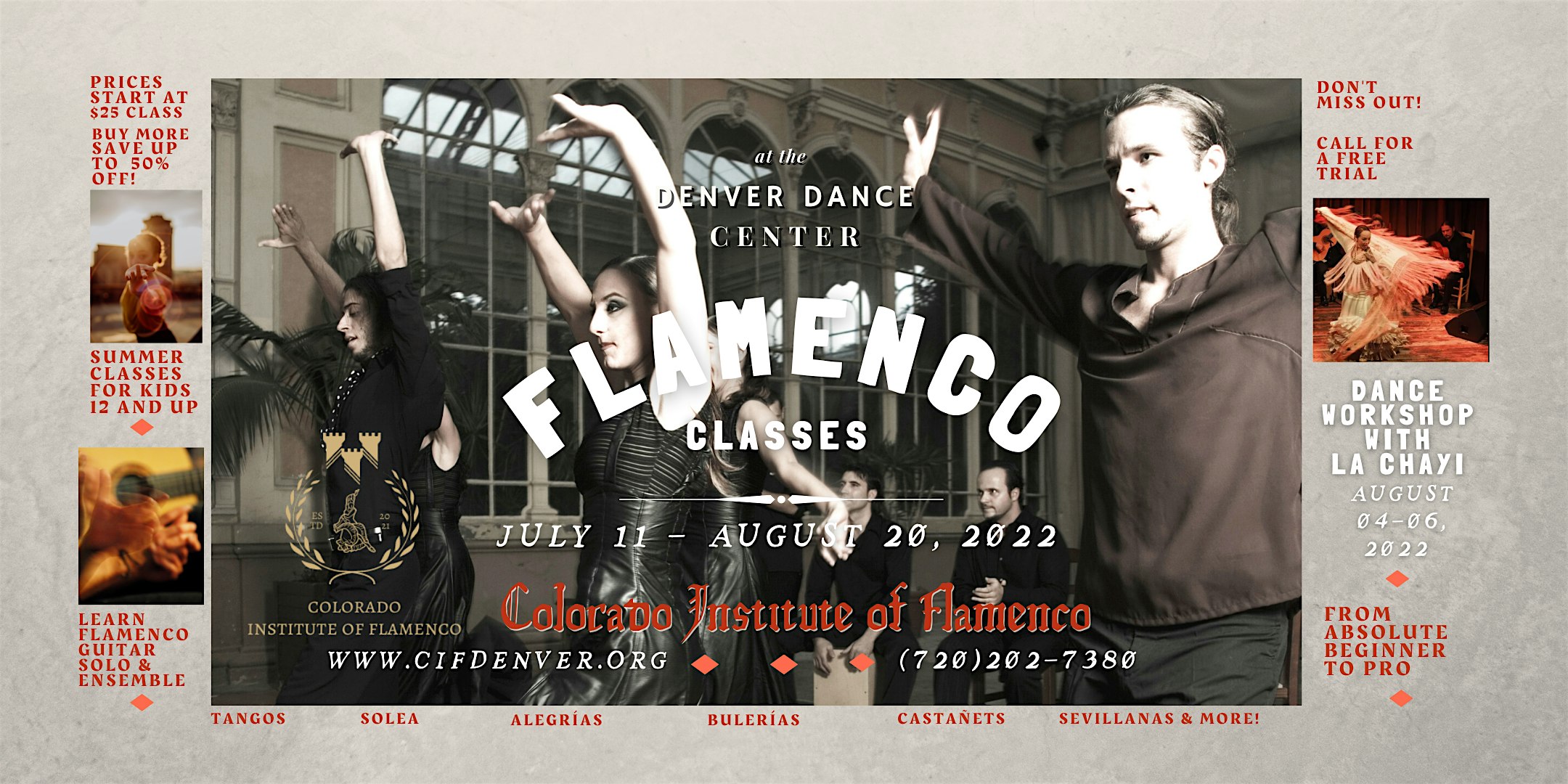 Advertisement

Best. Summer. Ever! Happening NOW––Colorado Institute of Flamenco Summer Group Classes & Workshops
About this Event
Happening Now! Colorado Institute of Flamenco is offering summer group classes in flamenco dance and guitar––Don't miss out!! Best. Summer. Ever! Classes July 11 - August 20, 2022!
Visit www.cifdenver.org or call main office (720) 202 - 7380
FIND OUT FOR YOURSELF AND GIVE US A TRY. BOOK A COMPLIMENTARY CLASS!
Register Online or Call (720) 202-7380!
Check out what's happening:
Intro to Flamenco - Age 12+: Mondays at 5:30pm. This class is perfect for students who have never taken a flamenco dance class. Great for summer fitness fun! Class will focus on the basics with simple easy-to-learn choreography. This class is great for the whole family from Ages 12 +
Summer All Levels Flamenco Dance - Mondays & Thursday, 6:30pm - Do the Fandangos de Huelva! Rev up your flamenco repertoire this summer! Refine and perfect your dance technique with more interesting more complex combinations of taconeo (footwork), braceos (arms), upper body placement, vueltas (turns), and choreography. Accompanied by live guitar.
Flamenco Guitar Technique & Repertoire - Tuesdays, 6:00pm (90-minutes) - Learn to develop a very specialized set of skills and techniques unique to flamenco guitar. Studies used in class are derived from the pedagogy originated by Flamenco Guitar Master, Alquilino "El Entrí" Jimenez, René Heredia, Andreana Cortes, Pedro Cortes, and other masters. Each study is designed to help you confidently become the best flamenco guitarist you can be. We work specifically on technique over memorized repertoire to help you build your skills for solo work and dance accompaniment, or personal enrichment. Where ever you are in you journey, in this is an ongoing all-levels class, you train and develop your skills at your own pace from beginner to professional in a relaxed and supportive environment.
Sevillanas + Castanets! - Saturdays, 11:30am (90-minutes) - Sevillanas is a traditional folk dance from the southern Spain that is often danced in pairs at celebrations and gatherings. Sevillanas is a fun and interactive way to get a jump start in flamenco. No experience is necessary!
Sumer Dance Workshop with La Chayi August 04-06 visit our website for details. Look for promo codes DISCOUNT15LACHAYI 15% off the workshop price good through until July 28––don't miss out!! You will love, love La Chayi's class!
Visit or call main office (720) 202 - 7380
Advertisement
Event Venue & Nearby Stays
Denver Dance Center, 2496 West 2nd Avenue, Denver, United States
Tickets
USD 0.00 to USD 185.00