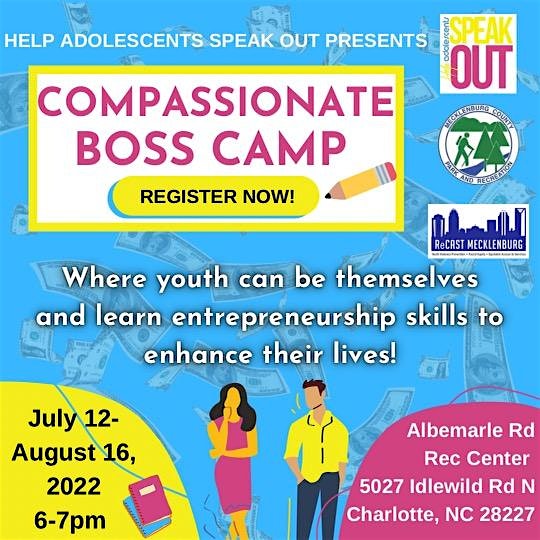 Advertisement

Where youth can learn entrepreneurship skills to enhance their lives in all capacities within a safe place.
About this Event


Compassionate Boss Camp is our 6-week summer course teaching youth how to be their own boss. Entrepreneurship is an out of the box solution to poverty and violence. Youth Violence is on the rise due to lack of finances and other means to get needs met in life especially for our youth. We help youth overcome challenges through our courses, self-advocacy , and action plan of success.

In this course youth will learn:
Practical mindset techniques to shift their idea into a business
Confidence and courage to become a compassionate boss
Understand the legal structure to start a business
Create a business and marketing plan
Define the basic of building a dynamic website
Learning what it looks like to lead with compassion
For more information or to sign-up for coaching and / or courses, check out our website www.helpadolescentsspeakout.com
Our sessions are not cost due to ReCAST Mecklenburg has a lot of resources for the entire family and our community. Please checkout the website https://vision.recastmeck.com/ for additional details.
Advertisement
Event Venue & Nearby Stays
Albemarle Rd Recreation Center, 5027 Idlewild Rd N, Charlotte, United States